Ao Haru Ride Original Soundtrack
Characters in the cover
Kou Mabuchi
Futaba Yoshioka
Artist
Hashimoto Shota
Osaki Keiko
Tsutsumi Hiroaki
Distributor
TOHO animation RECORDS
Release Date
November 19, 2014

Ao Haru Ride Original Soundtrack is the soundtrack of the Ao Haru Ride anime series. The music is composed by Hashimoto Shota, Osaki Keiko and Tsutsumi Hiroaki, and the album was released on November 19, 2014 by TOHO animation RECORDS.
Albums Tracklists
Edit
アオハライド
始まりの朝
ゼロ女子力
どっしりカルビパン
尾行癖(ビコウヘキ)
再会
濡れ衣
軽やかな昼下がり
双葉と悠里
双葉の本音
自己嫌悪タイム
好き
憧憬
あの頃には戻れない
淡い記憶
暑苦しいヤツ
あの日の真実
面影
君のもとへ
スキってキモチ
「I will」 instrumental ver.
好きな人だけに
忘れられない時間
手探りな関係
オリエンテーリング
夕暮れの迷子
バラ色の空
勘違い
ちぐはぐ双葉
憂いの夕暮れ
白日夢
Whoops!
ウジウジ悩んで
後ろめたさ
星の引力
喪失の記憶
哀しみの夜
Go Straight
走れ
夏祭り
こころの音
「I will」 On The Pinao
扉の向こう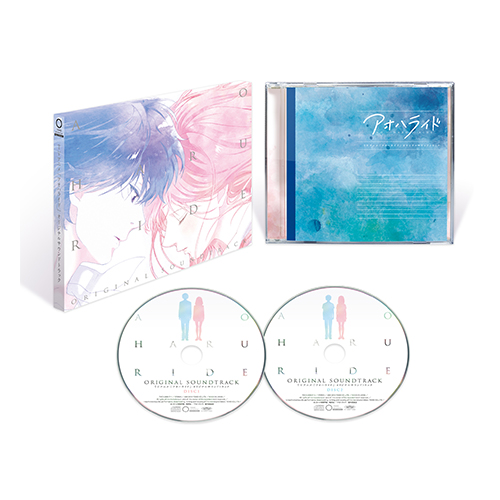 Ad blocker interference detected!
Wikia is a free-to-use site that makes money from advertising. We have a modified experience for viewers using ad blockers

Wikia is not accessible if you've made further modifications. Remove the custom ad blocker rule(s) and the page will load as expected.